Training
Alpha Detective Agency offers Private Investigation Taught Courses, Private Detective Training and Investigator related training eBooks all aimed at teaching new investigation subjects to novices or advancing the skills of trading Private Investigators.
We conduct both distance learning and classroom style face to face training. Many students start off with a Private Investigator distance learning course and then move on to our Private Investigation taught courses while others follow one of our multi-day taught course programs.
Private Investigation training has many avenues to explore, for instance you may wish to become a Process Server, a Civil Enforcement Agent or an Accident Investigator - whatever steps you want to take Alpha Detective Agency will be there to guide you in your Private Investigator training requirements.
If you have any questions in relation to our eBooks, Courses or Training please call us on 01293 541214 or Contact Us.
eBooks/Courses:
1 . PI Templates eBook
You have started your PI Business and now need to issue an Invoice or maybe write your terms of business.
Don't hunt around for hours trying to write your own - thePIschool has taken care of these for you.
Our PI Templates eBook has more than 30 easy to adapt templates specifically written for a PI Business.
Price £9.99
2. Starting Up and Succeeding in the PI Business eBook
With over 23500 words and 114 A4 pages in length this unique manual is fully updated for 2009!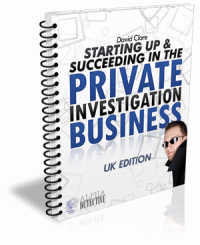 Subjects covered in the eBook:
● Who and What are PI's in the UK
● Process Serving
● Tracing
● Vehicle Accident Investigation & Insurance Claims
● Means Reporting
● Basic Surveillance
● PI Templates
● PI Marketing
● Building Your Agency Up
Written by David Clare, a Private Investigator since 1999, this eBook is easy to understand and will benefit both new Investigators and "Old Hands" alike.
The business development section of this eBook is what sets it apart from others on the market. The eBook is made for the UK Private Investigator and not the American or European reader like so many others.
Order your copy now for just £39.99
3. How to Build Your PI Agency Up eBook
This eBook is a must have for anyone in the PI business OR starting out in the PI business.
The material shows you (amongst other things) how to increase turnover and profit, simple telephone techniques in order to get callers turned into clients and even how to turn customers away!
This is our best selling eBook - click below to order your copy now.
Price £9.99
4. Accident Investigation eBook
This eBook although aimed at practicing PI's can also be read as a stand alone product.
The book shows you how to conduct basic accident investigation work for both Solicitors and Insurance Companies relating to vehicle collisons.
Subjects include:
Drawing locus sketchesreports
Making witness statements
The role of the accident investigator
Equipment needed for the job.
Price £8.99
5. Process Serving eBook
This eBook shows you how to conduct Process Serving legally and effectively.
It will show you the step by step process of serving legal documents, how to charge clients and where to get help from should you need it.
Process Serving also known as the Bread and Butter work of a PI is a valuable add on service that will keep you busy and add new clients to your ever-growing list.
Price £8.99
6. Marketing eBook
Congratulations are in order, you have decided to start a PI business or you already have a PI business and want to expand - This eBook is therefore for you!
The book covers in basic terms, places to look for work, forums to guide you, places to advertise in and more importantly places where NOT to advertise!
The eBook covers planning, image and theory for the aspiring or existing PI.
Price £4.99
7. 1 Day - Introduction to Private Investigation Course
Have you ever wanted to become a PI? Want to start PI training but not sure where to begin? Well this one day taught course is designed for you!
We will show you how to set up in business, the pitfalls of a new PI business, the basics of Process Serving, Surveillance and Tracing.
We also discuss where to get work from and the marketing of your new business. Courses are held several times through the year and a calendar of dates is shown on the Training Home Page of this website.
The Course is held in West Sussex in our Haywards Heath training venue. Full location details are provided within your joining instructions upon purchase.
Price £199.00 per person (Contact us for the latest course dates)
8. 1 Day - Process Serving Course
Doing exactly what it says on the tin - this course is a full one day dedicated to Process Serving. We will show you how to complete Affidavits correctly, the Process of Process Serving, where to get work from, the legal areas to watch for, how to keep yourself safe and introduce you to the UK-PSA. A workbook is included on this course as part of your fee.
Courses are held several times through the year and a calendar of dates is shown on the Training Home Page of this website.
The Course is held in West Sussex at either or Crawley or Haywards Heath training venues. Full location details are provided within your joining instructions upon purchasing one of our courses.
PLEASE NOTE: Members of the UK-PSA are able to gain a discount of £25.00 per member on the course fee, please contact us or the UK-PSA for your discount code.
Price £175.00 per person (Contact us for the latest course dates)
9. Bespoke Taught Training
We offer bespoke training courses on a 1:1 basis for students wishing to have a dedicated training day or wishing to have maximum instructor attention.
Our bespoke courses often allow a capable student to undertake the equivalent of 2 days open course training in 1 day, therefore many people see the bespoke training days as fantastic value for money.
Bespoke training can involve either Process Serving or Private Investigation training and we are even able to offer training "on the job" with this package showing the student a day in the life of an investigator.
Bespoke training takes place in West Sussex, dates can be mutually agreed between student and instructor depending on the type of training the student requires.
Price £325.00
Testimonials:
Allan Morgan said the following:
"I have attended 3 taught courses run by Alpha Detective Agency, from beginner to advanced level. The staff were friendly and very helpful and the course content relevant, up to date and easy to understand. They were extremely informative, and gave me a good insight into where and how to find work, how to market my services and the (many) legal pitfalls to be aware of.
I have looked at other PI courses that did not inspire me to spend my money on them. Alpha Detective Agency stood way out in front, both for course content, presentation, and approachability.
The courses represented excellent value for money, and have given me the knowledge and confidence to achieve a long-held ambition to start my own business as a private investigator. I have already had a number of client leads.
Thank you to David Clare and everyone at the school for all your help and support so far"
Matt Seymour said the following:
"Thanks for sharing your expertise so eloquently on Saturday - I was very happy with the amount of information I came away with."
Kevin Blunt said the following:
Since starting a new distant learning Private Investigation course I've got to know David Clare as he is my tutor. I have already completed a Private Investigation course approximately 7 months ago but found that this new one I'm doing at the moment is more rewarding due to the responsiveness and positive feedback from my tutor.
Over the last few months of doing my course I've also done a day taught course with David on Process Serving and found that the course was Brilliant. It was the first time I had met David face to face and I was made to feel really welcome as he did with all the other students.
When I do a course I expect to be taught with a tutor that can be there for you with the right attitude towards their students whether you are a professional or a beginner and with my experience doing a Private Investigation course in the past, David Clare is the tutor to have.
My experience through my course work with David has made me feel more confident in myself in what I have learnt; I never had that with my last course work. David has always been responsive on getting back to me on any questions I have put to him and has never left me feeling in the dark with anything.
My day taught course on Process Serving was a great day for me and refreshed what I already had learnt with my last distant learning course. I found that David teaches and approaches his students in an easy and understanding way without too much technical jargon and he also has a good sense of humour, and as any beginner that is what and how you want it to be.
Anybody who is thinking or wanting to go into the Private Investigation industry then going on these courses is a must. I would like to thank David Clare for giving me confidence in my new skills.